Back in my day I had a massive crush on the BSB – Howie in particular.
I actually still have a thing for them and occassionally when no one is looking, I burst out a move or two to Everybody (Backstreet's Back) …judge me all you want but that is a good song!
Anyway, these days kids are all about One Direction and for my Atlanta peeps, I have some codes to a special screening of the 1D movie: ONE DIRECTION: THIS IS US.
Parents, you can enter to win a pass for your teen girls.
Grandparents, you can enter to win a pass for your grandkids.
Boyfriends, you would have to be crazy to want this for your girlfriends but hey, you can enter too (they'll think you're the coolest boyfriends ever, even as they drool over other guys).
This is actually a Mother-Daughter Movie Preview Party but hey, every 1D fan is welcome!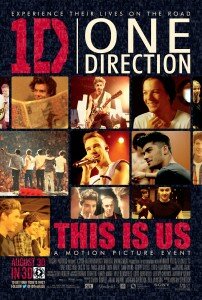 And now for the fine print:
*Each code = 4 passes (winner plus 3 guests)
*The screening is overbooked to ensure capacity and seating is first come, first served
*Screening date is Saturday, August 10th at AMC Sugarloaf Mills, 5900 Sugarloaf Pkwy, Lawrenceville, GA 30043
If you can't make it, please,please I beg you, don't try and win these passes.I want to give them to people who can actually attend the screening. To snag one of the codes – which will admit 4 people – just leave me a comment below telling me what you love most about Atlanta
Winners will be chosen randomly on Monday 8/5 at noon